Apart from the historic and ancient temples, beautiful beaches and friendly people, Cambodia is also a little infamous for scamming tourists every now and then. One of the more popular scams, 'The Border Scam' or the 'Visa Run Scam' has been going on for years, but a lot of people still get fooled every day! It is most definitely the lack of information as if you'd know about it before entering the country, you'd easily avoid it. The worse two border crossings are Koh Kong in the South and Poi Pet in the North.
Every single person needs a visa to enter the country (with the exception of some South East Asian countries), and so will you. That is the reason 'Fake' Visa agents have a huge opportunity to earn a lot of money there. I passed the Cambodian border with Thailand three times and once with Vietnam. I also did three Visa run from Cambodia to Thailand. Before I did the first one, I tried looking for relevant info on the internet but could not find anything up-to-date. So in this article you will find all you need to know about Visas for Cambodia - how to get and extend them and most importantly, what you have to pay attention to if you don't want to get scammed. I got scammed, so you don't have to (You can thank me later!) There are two options – Tourist visa ($30) and Business Visa/Ordinary Visa ($35). The difference being, the Tourist visa can be extended just once, for 1 month, and the Business visa can be extended up to 1 year. The prices vary, depending on the length of stay. So which one is better? If you want to stay a short time, just apply for the Tourist one but if you plan to stay over 2 months, apply for the Business/Ordinary visa. In both cases, after 1 month, you need to go to a travel agency to extend your visa. You leave the passport at the agency and a few days later a new Visa appears in your passport. It's very easy. But what do you do after that extension runs out? Make sure you don't overstay the expiration date. It will cost you 5 dollars every day! I overstayed my Visa once and believe me, it is not fun sitting in an office full of Cambodian policemen, looking at you with extremely serious faces.
If you go from Bangkok to Cambodia by land, you will exit at the Poi Pet border. And it has a bad reputation for a reason. On Khao San road, the most famous street in Bangkok, there are numerous agencies selling bus tickets to Cambodia for ridiculously low prices. Just remember, if something seems too good to be true, it probably is. 12 hours bus ride for $3? Smells fishy, real fishy! In reality, you pay an extremely low amount for the ticket but get scammed along the way. So in the end, you just end up paying twice or three times more than usual. The Fake Visa agents will take you to a fake Visa office and ask for an obscene amount which you'll have to pay if you want to get your Visa.
After reading all this, I was scared to book the ticket at a travel agency. So I decided to just go by myself. No scams, no fake agents involved. I woke up in the morning, packed my bags and headed to the main bus station in Bangkok. There were buses to Poi Pet every hour for just 234 baht ($6). After a few hours, we arrived at the border and a bunch of Fake Visa agents waited like hawks in front of the bus. They were well-dressed and very polite. Too polite...They told me that the only way to get a Visa was to follow them to an old building nearby. Suspicious? I said NO and started walking away. But they wouldn't let me.
"You must get a Visa before leaving Thailand", is what they were trying to convince me. That's a big fat lie. You don't need it before. Then a brilliant idea came to me. I told them, "I've already applied for the Visa online. Thank you very much". And you should've seen what happened next! The situation changed completely. They stopped convincing me and everyone pointed to the direction of the real Visa office! It was absurd.
I exited Thailand with no problems, got a new Cambodian Visa and bought another bus ticket from Poi Pet border all the way to Siem Reap. I arrived at my final destination in the afternoon. This journey was cheap, easy to do and without any scams.
VISA RUN!
I don't know where this name comes from, but don't worry – you won't have to run anywhere. You don't have to take running shoes with you.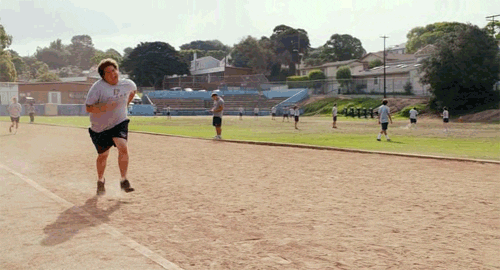 I did mine in Koh Kong. Cham Yeam border is 8 kilometres away from the city. I rented a driver on the motorbike and he took me to the border, waited for me to do the Visa run and took me back for only 5 dollars. The next 4 steps will make the Visa run less stressful so do read it carefully.
First go to Departure Office in Cambodia and wait in line to get the exit stamp in your passport. The queues are the shortest around 10 in the morning.
Walk around 200 meters to the Thai border, write and sign the arrival card and show it to the officers in Arrival office in Thailand. They will give you a new stamp and a new Visa for Thailand. This is free of charge.
Go to the Departure office in Thailand and get an exit stamp. The first time I did my Visa run I didn't know if I am allowed to turn around and go back right away. So I just pretended to walk around a little to avoid suspicion. But I saw that the police officers were not saying anything so the next two times I left Thailand immediately, with no problems at all.
Walk back to the Cambodian border and find the Arrival office. Fill in all the papers and wait in line for a new Visa. Don't let anyone help you with the forms. Even if they say it will be for free (There are no free lunches in this world!). And never give anyone your passport. And don't pay more than you should have. Just don't be naïve and don't trust well-dressed, polite strangers.
The hardest part is probably the last one. When I went the first time I asked for a Business Visa and paid the right amount. Police officers looked me in the eyes and said, "Here you go Miss, your new Business Visa." I was excited that everything went so smooth. He even kissed my hand goodbye, 'What a gentleman!', I thought. But I got scammed without knowing it. When I wanted to extend my Visa, the travel agency told me it was impossible to do so as I had a Tourist Visa! I was so mad, but the only option was to do the whole thing once again. And another personal advice for the end? If you don't know how long you will stay, just buy a Business Visa. It costs just 5 dollars more and you can extend it as many times as you want. You will avoid the hassle of Visa Runs and you will spend less money. There is a big possibility you will fall in love in Cambodia and end up extending your stay. Most of the people do. I did (Here is my lovely experience
backpacking and living with locals in Cambodia
).
Header picture by
Ariel Leuenberger
What's YOUR crazy visa story? Share in the comments below! Also, check out some of the amazing things to do in South East Asia:
Surfing in Phuket
Scuba Dive in Phi Phi
Trek up a Volcano in Bali
Rock Climb in Chiang Mai
Ride an ATV in Pattaya
Take a SUP river trip
Learn Kitesurfing
Learn the art of Muay Thai
Go Ziplining with wild Gibbons